Plie Releve Life is talking to
Claudia Alfieri Wallace owner of
Fairfax's newest ballet school, Studio C.
http://www.studiocballet.com/
Studio C is utilizing a special teaching and training curriculum called National Ballet Technique NBT, developed by American Ballet Theater master teachers and Director Kevin McKenzie.
We asked Claudia
to talk to us about her unique experiences with the training, her career with ABT and other companies, and finally her aspirations for her newest venture: Studio C.
Plie Releve Life:
What do you think are the strengths of ABT's NDT program?
ABT' NDT curriculum is different from other schools because it gives the teacher a certain
structure of the fine attributes needed in todays pro companies and what they are looking for these days (artistry, foot work, jumps, turning ability etc) and a guideline of how to achieve those and create those attributes in a young dancer as they grow in a healthy way!!!!
Right now it's just Carla Escoda
Carla Escoda
and I who are certified but eventually ALL my teachers at Studio C Ballet will be certified to give a continuous training curriculum throughout the school.
Plie Releve Life:
Can you give us some specifics? Can you give us some of the specific methods/ training concepts/ideas you learned during your sessions in NYC at the ABT school?
Claudia:
In training, contrary to what people may think, they don't give you certain steps or combinations to teach. They instead give you philosophies on and the origin of steps
and what different large schools (Paris Opera, Royal Ballet, Royal Danish etc) are teaching and why! And what ABT in particular wants to see and why you need to incorporate different steps and port de bras and movements into your class.
This takes a certain knowledge of professional level ballet to be able to understand and therefore incorporate what they want into your classes. They leave it up to the teacher themselves to explain progression of steps within a class and tie it in throughout different levels. So your teaching can flow smoothly and with thought, musicality and progression. I really like that, they rely on your particular talents as a teacher and what you can bring to curriculum yourself. They'll just push you in the right direction and give you the tools and confidence you'll need as a teacher.
At the end of a very intensive long training you are tested with a written test, one on one discussion and showing of a class structure with the adjudicator. (in my case it was Franco De Vita - Director of the ABT School in NYC)
Plie Releve Life:
What are the particular gifts you bring as a teacher given your extensive performing career?
What I have to offer as a past dancer / now teacher- is the same as
what I believe made me a successful ballet dancer is the same as what makes me a good teacher...
And that is how much I give of myself! Be it onstage or in class, I give everything I have to offer. Even when I have a class full of students, I engage everyone, constructively
correct, give eye contact and intuitive one on one instruction. I'm able to adjust the class according to who's in there and meet their individual needs as dancers.
At the same time, I don't want to overwhelm students with technique. Of course, dancing is ultimately about moving to music and enjoying being one with our bodies.
Studio C Fairfax
My class is organic, positive, fun and can sometimes be technically challenging! But isn't that what ballet's about?
Plie Releve Life:
What are the advantages to the dancer who trains using the NDT method short and long term.
American ballet dancers are MUTTS. And I mean that in the best way - our training has been a combination of many different teachers and a myriad of dance styles.
But this is actually to our advantage. Pro companies all over the world today need/want only dancers exceptionally trained to be able to conform to ALL styles of choreographers and still maintain the line and technique of a classically trained ballet dancer. Swan Lake one night,
Claudia
Mark Morris the next!!! You need to do it all.
Claudia
ABT curriculum is the same way, picking and choosing the best technical attributes from all classical training styles and incorporating them into one. I feel very lucky to be a part of this program, it's actually what I've grown up with just put into useable philosophical tools to incorporate into training dancers of all ages and abilities.
Plie Releve Life: On Studio C's website, you write that you realized it was time for you to "give something back" and you decided to open your studio. Can you tell us about your vision for the studio?
Carla Escoda and I have recently teamed up and are opening a new "Studio C" in Sausalito. We will be sharing space with StageDor http://www.stagedor.com/index.html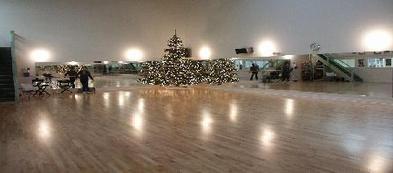 StageDor " Studio C" in Sausalito
Its a 2100 sq ft HUGE studio with massive ceilings, a sprung floor and we'll be using a Marley on top of the sprung floor for all our classes to address any slippery floor concerns. Between Carla, Leigh Donlan and I we will be tag-teaming teaching between Fairfax and Sausalito. We will be opening up our new ballet program in Sausalito on Sept 3rd, 2012!!!
* Our goal is to become an official ABT affiliate school (this may take some time - maybe by next Sept?)
What that means is someone from ABT will be coming out to our school once a year, accessing our teaching and of course our students and what the levels are.
Our students will benefit from the affiliation with auditions for ABT Summer Intensives

and hopefully sending our students, when/if they are ready, along to ABT themselves!!!
Wow! that sounds like a fantastic goal. I can't wait to watch Claudia, the "Studios," and the new dancers grow!
Many thanks to Claudia for her time and thoughtful responses and for the pictures: all courtesy of Studio C website. Also thanks to Carla Escoda for her photo from her award winning blog
http://ballettothepeople.com/
For another eye witness view of the program read Dance Advantage's article by Deb Young:
http://danceadvantage.net/2010/09/01/abt-teacher-training/